Exhibit Floor Registration opens June 27
General registration for exhibit booth space at PNCWA2018 will be available starting Wednesday, June 27, 8:00 AM Pacific

We're excited this year! After a number of years of not having enough contracted space for all of the interest we have had from exhibitors, we now are moving into a cycle of having contracts with venues with space to spare. That has led to a dynamic layout for the PNCWA2018 exhibit floor – one in which exhibitors will have flexibility on their square footage and whether or not to have traditional pipe and drape.
You can access information on exhibiting at PNCWA2018 at: PNCWA2018 Exhibitor Information
A map of the floor is at PNCWA2018 Exhibit Floor Map You'll see that some booths are already spoken for. That is through sponsorships that have priority placement and that's available now. But we're confident that there will be a lot of good spaces left. When registering through the exhibit sign-up system, you can pick your space and either pay by credit card or choose to be invoiced to pay by credit card or check within 15 days.
FYI – Here are some stats from PNCWA2017:
692 registered attendees (not including exhibitors)
909 including exhibitors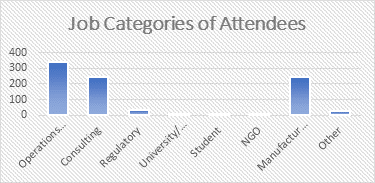 Share this post: